Methane Sulfonic Acid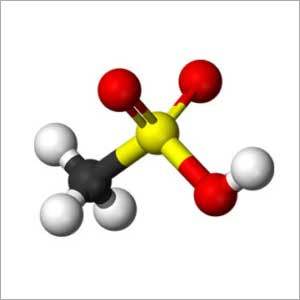 Methane Sulfonic Acid
Product Description
Methane Sulfonic Acid
| Analysis Item | Specification |
| --- | --- |
| Purity % | 99.5% Min |
| Appearance | Clear Colourless Transparent Liquid |
| Color (APHA) | 50 Max |
| Water Content (ppm) | 0.80 Max |
| Heavy Metal (mg/kg) | 5 ppm Max |
| Fe 3+ (mg /kg) | 5 ppm Max |
| Density (18/4oC) | 1.480-1.482 |
| Chloride (mg/kg) | 20 ppm Max |
Applications of Methane Sulfonic Acid

Methane Sulfonic Acid finds application in Pharmaceutical & Agrochemical synthesis.
It is used as Solvent and is also used as catalyst in Esterification, Polymerisation and Alkylation Reactions. It can be used as excellent eco-friendly cleaning agent in house hold and industrial cleaners.
It also find application in Electroplating and Metal Surface Treatment. It is also an excellent Rust & Scale removing agent.
Methanesulfonic acid is used as an acid catalyst in organic reactions because it is a non-volatile, strong acid that is soluble in organic solvents.
Methanesulfonic acid is convenient for industrial applications because it is liquid at ambient temperature, while the closely related p-toluenesulfonic acid (PTSA) is solid. However, in a laboratory setting, solid PTSA is more convenient. Methanesulfonic acid can be used in the generation of borane (BH3). By reacting methanesulfonic acid with NaBH4 in an aprotic solvent such as THF or DMS, the complex of BH3 and the solvent is formed. Methanesulfonic acid is considered a particularly suitable supporting electrolyte for electrochemical applications, were stands as an environmentally friendly alternative to other acid electrolytes used in plating processes. Methanesulfonic acid is also the electrolyte of choice in zinccerium (see cerium(III) methanesulfonate) and lead-acid (methanesulfonate) flow batteries.
Contact Us
No. 406, Adamji Bldg., 4th Floor, 413 Narsi Natha St. Masjid Bunder, Mumbai, Maharashtra, 400009, India
Phone :08045479650